Philips Respironics has introduced its latest portable ventilator, the Trilogy Evo. Designed to follow patients when they move from one healthcare setting to another, or from a facility to home, the Trilogy Evo provides the same level of reliability expected in a hospital but with the flexibilty of a personal ventilator.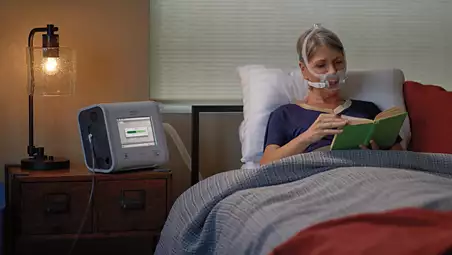 Featuring a 10-hour battery life, the Trilogy Evo features the same SpO2, EtCO2 and advanced respiratory mechanics monitoring capabilities found in other Trilogy ventilators. The  8" touchscreen uses patient-friendly displays to support easy set-up and setting modification. It offers new, on-screen Help and Alarm guidance, and user-friendly universal names for most ventilation modes.
Digital Auto-Trak provides an automated breath triggering and cycling algorithm that adjusts to the patient's natural breathing patterns. It assists with ventilator to patient synchrony and comfort without manual adjustments.
To learn more about the Trilogy Evo, visit the Philips Respironics web site at www.usa.philips.com/healthcare/resource-catalog/landing/trilogy-evo.